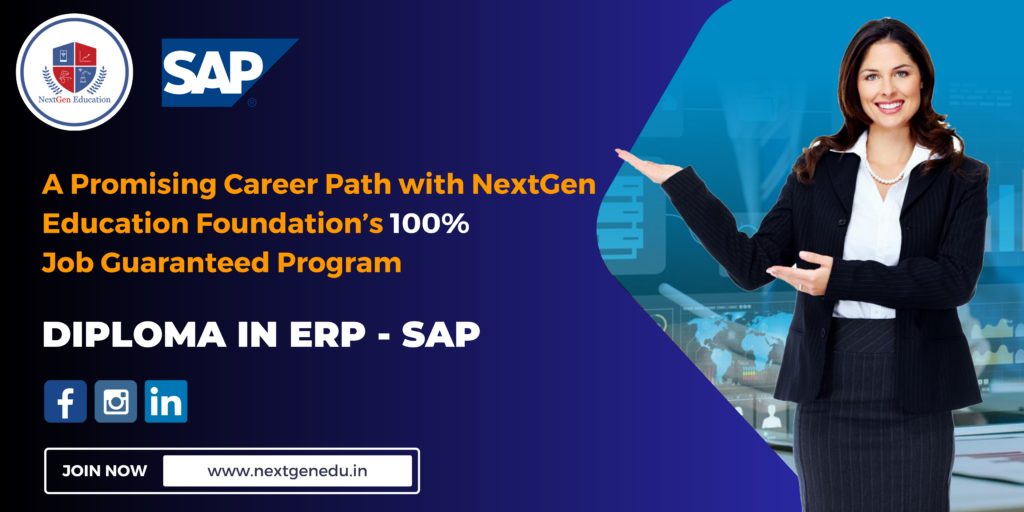 Diploma In ERP – SAP: A Promising Career Path with NextGen Education Foundation's 100% Job Guaranteed Program
With a wide customer base in India, 'NextGen Education Foundation' strives to create a pool of resources that are currently in high demand. The finishing school employs a unique pedagogy designed and executed by an expert team to enable each student to become an expert in their chosen domain.
SAP is at the center of today's business and technology revolution. SAP innovations enable more than 3,35,000 customers worldwide to work together more efficiently and use business insight more effectively.
ERP-integrated SAP technology is rapidly growing in the technology industry. With businesses increasingly relying on SAP services to store and process data, the need for skilled professionals in these fields continues to increase. Pursuing a career in SAP is not only an exciting opportunity but also a wise choice, as it offers great potential for growth and development.
If you're interested in building your career in the field of Technology Industry, SAP is the Best Solution for you. It's important to have a solid understanding of the basics. You should start by learning about the different Modules of SAP such as Functional & Technical. You should also be familiar with all the Business Processes that are involved in SAP.
NextGen's Diploma in ERP – SAP Program offers 100% job guarantee with a pre-placement offer letter of Rs. 3.5 LPA to eligible candidates who pass the entrance interview. This program is best suited for freshers, job seekers, and working professionals who want to upskill in emerging technologies like ERP – SAP in order to enhance their technical career prospects.
The 8 month of training and 4 months of internship intensive program at NextGen Education offers a well-structured and goal-oriented learning framework customized according to the job roles, responsibilities, and profiles of employees. Learners enrolled in this program not only acquire new technical skills but also gain exposure to working under industry mentors and experts during their internship program, which significantly enhances their employability.
Author Name: Gayatri Degaonkar
Contact Number: +91- 92094 01600
Kick Start your IT Career with NextGen Education.
Get Connected Today!
7888034000 / 9209401600